Spiders seem to have taken the Covina area by storm. We have received countless calls for spider treatments for a variety of reasons. Not all calls we receive regarding these pests are for poisonous ones but we do want to make it known to Covina residents that we have dealt with cases of black widow and brown recluse removal.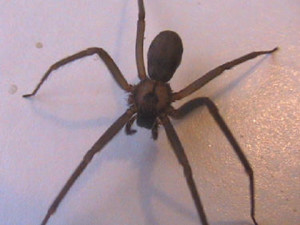 Covina Black Widow Control
Most people are familiar with black widows and how to identify them. They are black with a red hourglass on their belly. Most commonly found in outdoor locations such as sheds, garages and woodpiles but common to find in basements and closets as well. Always handle such a poisonous pest with care. If you'd rather let us handle it for you, give us a call at (626) 722-5214.
Covina Brown Recluse Removal & Extermination
Brown recluses aren't always noticed right away as the poisonous spider that they certainly are. The brown recluses we've come across in Covina have been on the smaller side but should be regarded with caution nonetheless. Found in similar locations as the black widow you will commonly find brown recluses hiding in areas easily unseen. They are reclusive in nature, hence the name. Brown in color and depicted by the hourglass figure on their body.
If you have noticed a poisonous spider on your property then you need our Covina spider control specialists to come out immediately to take care of it for you. You should give us a call if you've seen any poisonous ones close to or inside of your residence. It's easy enough to kill a poisonous one when you see it, but this won't help to protect you from those that you haven't seen. Once you have confirmed the presence of a poisonous one, most likely there are others.
It doesn't matter if you want to remove of poisonous or non-poisonous spiders, our Covina spider control specialists would love to help you. Our pest experts will get rid of your existing pests and help to prevent others from coming in the future. Call us at (626) 722-5214 today!