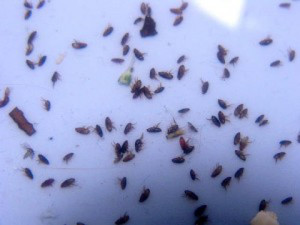 In addition to the many calls we receive for rodents, spiders, and ants, we also receive many for removing fleas. Fleas are a nuisance to have in the home and after some time dealing with them one can become quite frustrated. We understand your need to attempt to control these pests on your own first and we respect that. However we do offer affordable flea control options for the Covina and surrounding residents so you can get quality control without breaking the bank.
Fleas are small wing-free insects that jump from host to host. They feed on both humans and animals. They will infest your pet's bedding most often and any other areas your pet frequents on a daily basis. Their bites are not dangerous but they can be painful and itchy. Home remedies aren't always successful in removing these annoying pests 100%. That's why we offer superior flea control to the Covina area.
Let Pest Busters Pest Management help you now! Removing these small pests in the house is definitely not easy. For every one that you discover there most likely are hundreds that go unseen. Don't let problems with fleas hurt your family's home. Call Pest Busters Pest Management at (626) 722-5214 today!